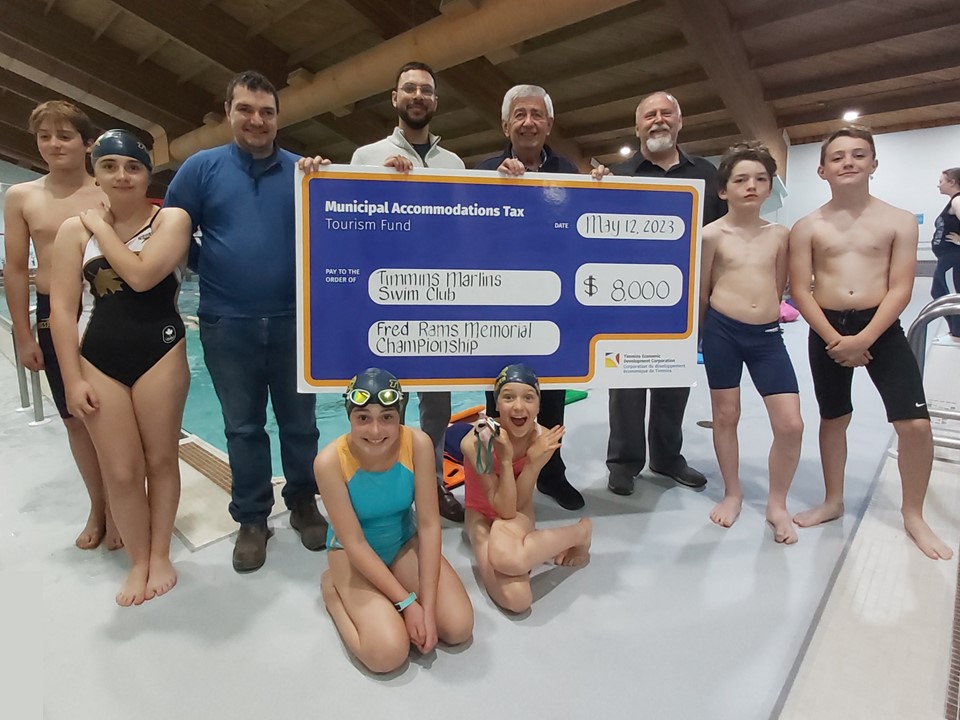 After a break due to the pandemic, the Fred Rams Championship is back with a splash! Members from the MAT Tourism Fund Committee were poolside on Thursday afternoon to meet some of the excited participants and present a check to the Timmins Marlins Swim Club. The funds will be used to cover costs directly associated with hosting the event.
The championship took place on May 13 and 14, 2023 at the Archie Dillon Sportsplex in Timmins, marking the culmination of the swim season for Ontario's North East Region. Families from all over northeastern Ontario flocked to Timmins to enjoy the competition and everything else the city has to offer.
Close to two hundred young swimmers aged 14 and under participated in the event. The event creates opportunities for these talented young athletes to showcase their skills, compete against other clubs, and even set a personal best!
The influx of visitors to sports tourism events like the Fred Rams Championship benefit our local hospitality, retail, and service businesses, among others.
The MAT Tourism Fund, administered by the TEDC, offers strategic investment and funding to promote and grow the tourism industry in the City of Timmins. Find more information at timminsedc.com/mat-fund/.
–30–
For more information, contact Noella Rinaldo at noella.rinaldo@timmins.ca or (705)360-2600 x 7081.
---
About the TEDC
The TEDC is the city's non-profit community economic development team. We facilitate and support economic and social activity that creates jobs, diversifies the economy and improves quality of life.
Land Acknowledgement
The TEDC acknowledges that we are located on the traditional Lands of Mattagami First Nation, Flying Post First Nation, and Matachewan First Nation, home to many Ojibway, Cree, Oji-Cree, Algonquin and Métis people. We also acknowledge that we are situated in Treaty 9 territory (also known as the James Bay Treaty), which is steeped in the rich Indigenous history of many First Nations, Metis and Inuit People.