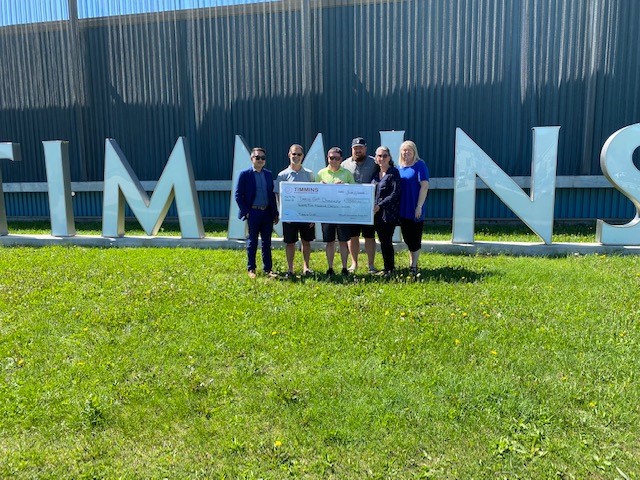 TIMMINS, ON: The Municipal Accommodation Tax (MAT) Subcommittee led by the Timmins Economic Development Corporation (TEDC) is pleased to present the Timmins Golf Championship with a check for $7500.
The Timmins Golf Championship is a new venture in the community. Co-chairs of the event Jamie Lamothe and John Elliot said "the goal of this championship is to build a sustainable, long-term event that is shared between both the Hollinger Golf Club and Spruce Needles Golf Club with representation from both facilities." They added that their vision is to bring the two clubs closer together in collaboration and to drive regional interest from golfers in northeastern Ontario and northwestern Quebec. The MAT Fund grant will go towards promoting the event and help grow the event in future.
Audrey Penner, chair of the TEDC board, said "creating opportunities to drive tourism to the community is financially beneficial for both clubs, and supports our local sports tourism industry."
The event will take place on June 18th and 19th. Interested parties can find more information on the Timmins Golf Championship Facebook page or by contacting John Elliot at 705-262-4194.
The MAT is a 4 per cent fee imposed on the cost of hotel accommodations lasting 30 days or less. The City of Timmins is required to pay 50 per cent of the net MAT revenue to an eligible tourism entity to be used to promote tourism. The remaining 50 per cent is transferred to a reserve fund to be used as City Council directs.
For more information on the MAT fund, visit: www.timmins.ca/our_services/finance/municipal_accommodations_tax 
–30–
For more information, contact Kelsey Luxton at kelsey.luxton@timmins.ca or (705) 360-2600 x7083.
About the TEDC
The TEDC is the city's non-profit community economic development team. We facilitate and support economic and social activity that creates jobs, diversifies the economy and improves quality of life.