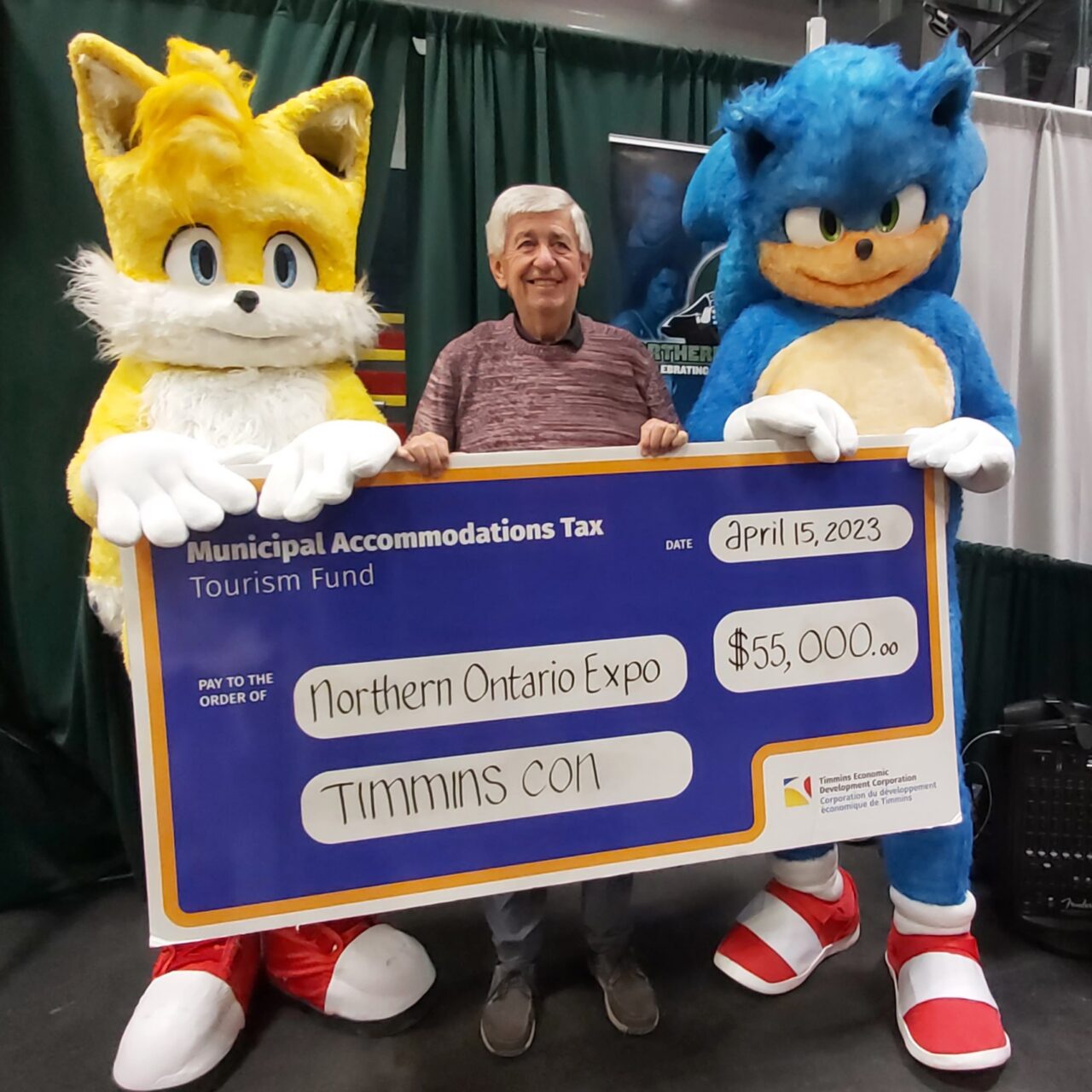 TIMMINS, ON — Tails (left) and Sonic (right) were on hand to accept a cheque from Mike Kentish (TEDC MAT Tourism Fund Committee Member) on Saturday April 15, 2023 at the McIntyre Community Building.
Sonic was disappointed to learn that the $55,000 cheque was not for him, but Mike was happy to explain how the funds go directly toward supporting the Northern Ontario Expo TimminsCon 2023. The annual event is designed to bring fun and pop culture to Timmins and attracted approximately 5,000 visitors over two days, including vendors and cosplayers from across Canada.
Northern Ontario Expo (NOE) is a local and incorporated not-for-profit, staffed entirely by an enthusiastic and committed team of volunteers. NOE has been working to bring cosplay to Timmins since 2013. Despite a small set-back over the last two years, due to the Covid-19 pandemic, TimminsCon 2023 has returned bigger and better than ever! Plans are already in place for a Timmins Expo 2023 (September 16 & 17, 2023) and TimminsCon 2024 (April 20 & 21, 2024 at the McIntyre Community Centre).
The MAT Tourism Fund is administered by the Timmins Economic Development Corporation (TEDC) and offers strategic investment and funding to promote and grow the tourism industry in the City of Timmins. More information at: https://timminsedc.com/mat-fund/
–30–
For more information, contact Noella Rinaldo at noella.rinaldo@timmins.ca or (705)360-2600 x 7081.
---
About the TEDC
The TEDC is the city's non-profit community economic development team. We facilitate and support economic and social activity that creates jobs, diversifies the economy and improves quality of life.
Land Acknowledgement
The TEDC acknowledges that we are located on the traditional Lands of Mattagami First Nation, Flying Post First Nation, and Matachewan First Nation, home to many Ojibway, Cree, Oji-Cree, Algonquin and Métis people. We also acknowledge that we are situated in Treaty 9 territory (also known as the James Bay Treaty), which is steeped in the rich Indigenous history of many First Nations, Metis and Inuit People.