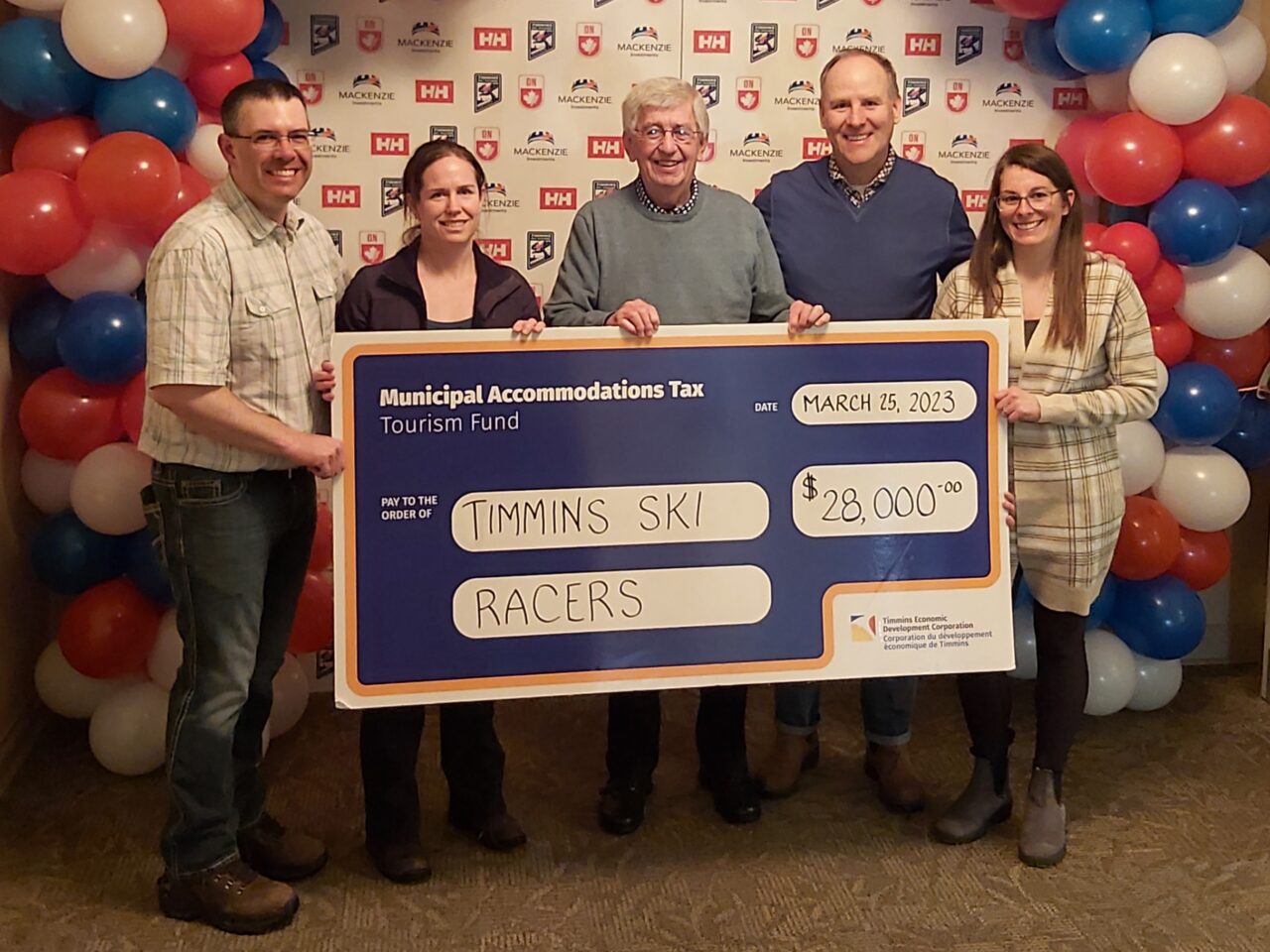 From left to right: Paul Levesque (President, Timmins Ski Racers), Monique Levesque, Mike Kentish (MAT Tourism Fund Committee), Darren Taylor and Julie Godin.
TIMMINS, ON — The Timmins Economic Development Corporation (TEDC) is pleased to grant the Timmins Ski Racers with $28,000 from the MAT Tourism Fund Committee.
The funds support the organization with costs directly associated to hosting the 2023 Slalom Derby, an alpine racing event sanctioned by Alpine Ontario and usually the last race on the Alpine Ontario calendar. The event attracts racers from across Ontario and Northern Quebec. In total, 150 ski racers participated in the 3-day event which took place at Mount Jamieson Resort. Timmins Ski Racers also hosted a banquet at the Dante Club on Saturday March 23rd for participants and guests to celebrate the event, which has been a feature on the local ski racing calendar more than 25 years!
The MAT Tourism Fund, which offers strategic investment and funding to promote and grow the tourism industry in the City of Timmins, is administered by the Timmins Economic Development Corporation (TEDC). More information at timminsedc.com/mat-fund/.
–30–
For more information, contact Noella Rinaldo at noella.rinaldo@timmins.ca or (705)360-2600 x 7081.
About the TEDC
The TEDC is the city's non-profit community economic development team. We facilitate and support economic and social activity that creates jobs, diversifies the economy and improves quality of life.
The TEDC acknowledges that we are located on the traditional Lands of Mattagami First Nation, Flying Post First Nation, and Matachewan First Nation, home to many Ojibway, Cree, Oji-Cree, Algonquin and Métis people. We also acknowledge that we are situated in Treaty 9 territory (also known as the James Bay Treaty), which is steeped in the rich Indigenous history of many First Nations, Metis and Inuit People.