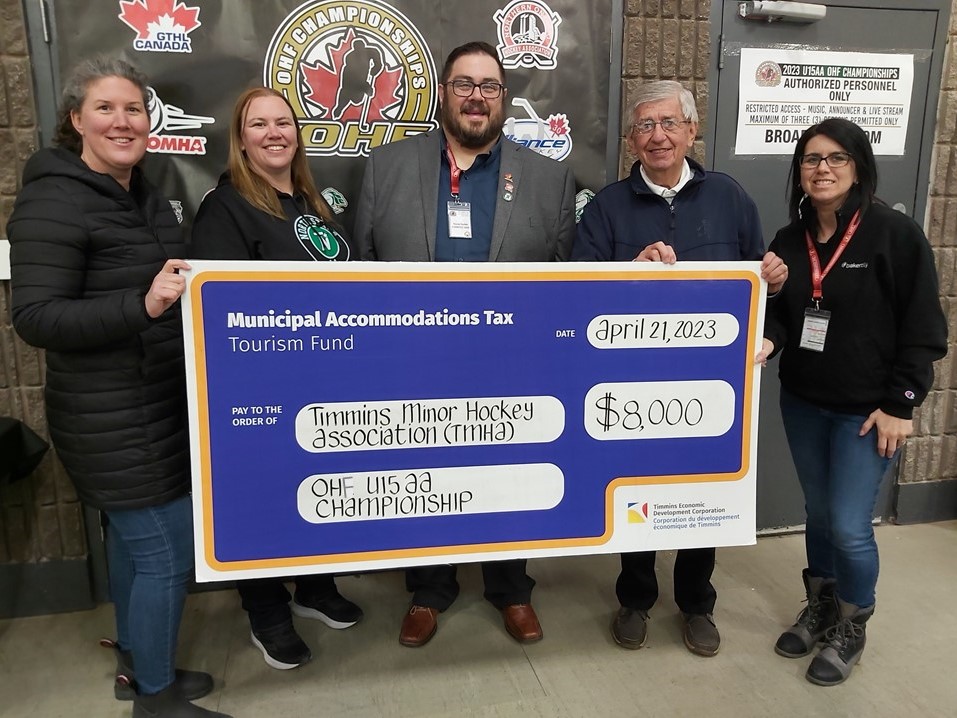 From left to right: Carmen Swartz (MAT Tourism Fund Committee), Angele Maurice (TMHA Director), Steven Vachon (TMHA Administrator), Mike Kentish (MAT Tourism Fund Committee) and Jessica Beaulieu-Levasseur (TMHA Executive). 
Members of the TEDC MAT Tourism Fund Committee were pleased to hand over a cheque to members of the Timmins Minor Hockey Association (TMHA) in support of the OHF U15AA Championship, which took place in Timmins from April 21 to April 23, 2023.
Steve Vachon, TMHA Coordinator, is grateful for the financial boost offered by the TEDC MAT Tourism Fund, and proud of Timmins' reputation for being a top notch host. "Teams have boasted about our hospitality year after year. There is a ton of work that goes into the planning and execution of this tournament, which would not be possible without our amazing team of volunteers and funding partners" says Vachon.
Barrie Colts (OMHA) were crowned the 2023 OHF U15AA Champions and took home the trophy, beating out the other four teams: Mississauga Beast (GTHL),Timmins North Stars (NOHA), Soo Jr. Greyhounds (NOHA) and the London Jr. Knights (Alliance). The MAT Tourism Fund grant is used to cover costs directly associated with hosting the tournament which, along with eighty players and staff, brings approximately 465 visitors to Timmins over the weekend.
The MAT Tourism Fund is administered by the Timmins Economic Development Corporation (TEDC) and offers strategic investment and funding to promote and grow the tourism industry in the City of Timmins. More information at:  https://timminsedc.com/mat-fund/
–30–
For more information, contact Noella Rinaldo at noella.rinaldo@timmins.ca or (705)360-2600 x 7081.
---
About the TEDC
The TEDC is the city's non-profit community economic development team. We facilitate and support economic and social activity that creates jobs, diversifies the economy and improves quality of life.
Land Acknowledgement
The TEDC acknowledges that we are located on the traditional Lands of Mattagami First Nation, Flying Post First Nation, and Matachewan First Nation, home to many Ojibway, Cree, Oji-Cree, Algonquin and Métis people. We also acknowledge that we are situated in Treaty 9 territory (also known as the James Bay Treaty), which is steeped in the rich Indigenous history of many First Nations, Metis and Inuit People.