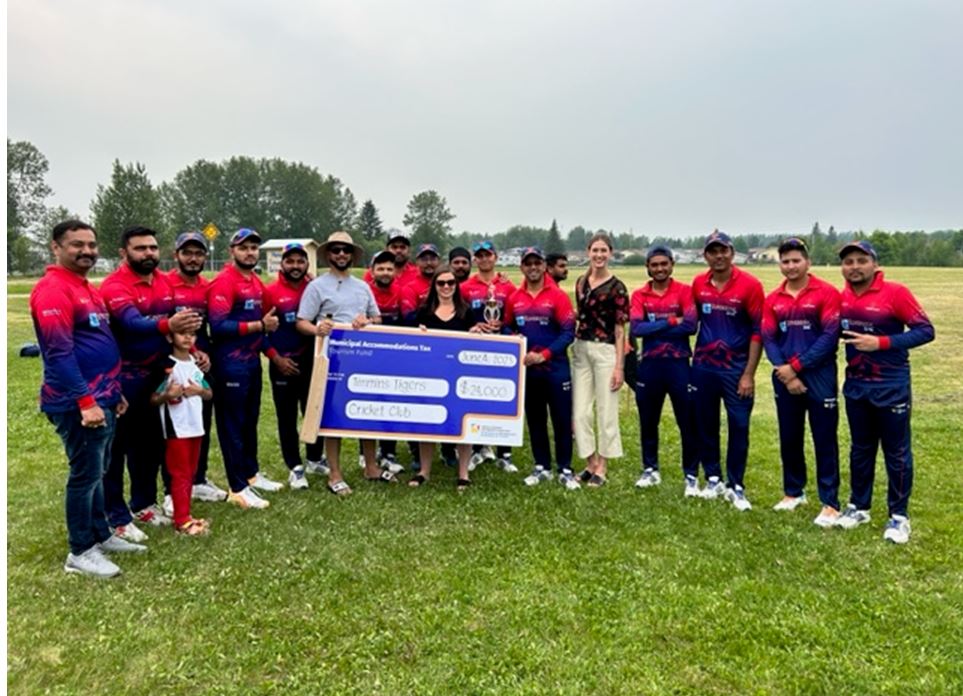 The Timmins Tigers Cricket Club is gearing up for an exciting 2023 Cricket Tournament season thanks to a generous $24,000 contribution from the MAT Tourism Grant Committee.
Cricket fever is spreading in Timmins as the city's population becomes more diverse, with an influx of new residents from South Asian countries like India, Pakistan, Bangladesh, and Sri Lanka. Cricket has become the favorite sport among these communities, and the upcoming tournaments this summer aim to celebrate their passion for the game.
The MAT Tourism Fund, administered by the Timmins Economic Development Corporation (TEDC), recognizes the importance of promoting tourism and supporting local initiatives. By investing in the Timmins Tigers' tournament, the fund aims to attract visitors, boost the local economy, and showcase Timmins as a vibrant and culturally rich destination.
"We are thrilled to support the Timmins Tigers Cricket Team and their 2023 tournaments with visiting teams," said Steven Viccajee, a member of the MAT Tourism Grant Committee. "Cricket is not just a sport but a unifying force that brings communities together. We can't wait to witness the excitement and talent on display during the tournament," he added.
"The MAT Tourism Fund is all about making Timmins a fun and engaging place for locals and visitors alike. With the growing popularity of cricket, these tournaments are sure to be a hit, attracting teams and fans from all over Northern Ontario," added Tiffany Thibeau, a MAT Tourism Grant Committee member.
Mayor Boileau expressed her enthusiasm, stating, "Timmins embraces diversity and values the interests of all our residents. The Tigers Cricket Team represents the spirit of inclusivity and cultural celebration. This funding will support fantastic events that showcase our city's welcoming nature."
The MAT Tourism Grant, which offers strategic investment and funding to promote and grow the tourism industry in the City of Timmins, is administered by the Timmins Economic Development Corporation (TEDC). More information at timminsedc.com/mat-fund/.
–30–
For more information, contact Noella Rinaldo at noella.rinaldo@timmins.ca or (705)360-2600 x 7081.
---
About the TEDC
The TEDC is the city's non-profit community economic development team. We facilitate and support economic and social activity that creates jobs, diversifies the economy and improves quality of life.
Land Acknowledgement
The TEDC acknowledges that we are located on the traditional Lands of Mattagami First Nation, Flying Post First Nation, and Matachewan First Nation, home to many Ojibway, Cree, Oji-Cree, Algonquin and Métis people. We also acknowledge that we are situated in Treaty 9 territory (also known as the James Bay Treaty), which is steeped in the rich Indigenous history of many First Nations, Metis and Inuit People.